Conference volume published: "Family Firms and Closed Companies in Germany and Spain"
Long ignored by research, family firms and closed companies are slowly but steadily receiving more attention amongst legal scholars. In Germany as well as in Spain, they represent the most common private law business structure. In 2019 a German-Spanish symposium took stock of the current state of research in this area and explored promising avenues for future research.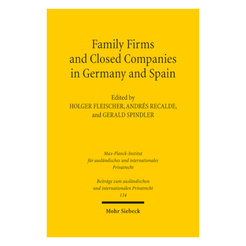 The edited volume features 11 contributions authored in English that comparatively examine typical problems arising in both family firms and closed companies. In his introduction, Institute Director Holger Fleischer – host of the Hamburg symposium and co-editor of the volume – first addresses the reasons why family firms should be given more academic attention: they are highly esteemed not only by management experts but also by policy makers and the public as they generally enjoy a confidence in multiple regards, ranging from their having an entrepreneurial perspective and an appreciation of sustainability to a deeper connection with individuals. Particularly in Germany they are the backbone of the economy, and in recent years they have become an object of attention in the field of economics. Fleischer describes the relevant criteria for a working definition of the concept of a family business and describes the legal forms in which they appear. He concludes with reference to the growing number of legal questions arising internationally, questions that could be best answered by the newly emerging discipline of comparative family business law.

Overview of Contents
Holger Fleischer: An Introduction to Law and Management of Family Firms
Paula del Val Talens / Miguel Gimeno Ribes: Setting the Scene. Family Firms and Closed Companies in Spain
F. Javier Arias Varona: Abide or Leave. Withdrawal Right for Retention of Profits, Close Family Companies and Rule of Law
Jennifer Trinks: Excessive Retention of Profits and Minority Protection. A German Perspective
Ascensión Gallego Córcoles: Abuse by Majority Shareholders as a Ground for Challenging General Meeting Resolutions
Fernando Marín de la Bárcena: Shareholder Control over Executive Pay
David Pérez Millán: The Duty to Honor a Shareholders' Agreement as an Ancillary Obligation in the Articles of the Company
Sebastian Mock: Shareholders' Agreements in Family Firms and Closed Corporations
Nuria Latorre Chiner: Related Party Transactions in Non-Listed Companies. The Limited Effectiveness of Ex Ante Control
Andrés Recalde Castells: The Significance of the Business Judgement Rule in Closed Companies
Gerald Spindler / Andreas Seidel: Business Judgment Rule in Closed and Family Companies
, , (

eds.

)
, Family Firms and Closed Companies in Germany and Spain (Beiträge zum ausländischen und internationalen Privatrecht, 134), Mohr Siebeck, Tübingen 2021, XII + 304 pp.