Shareholders' Meeting Authority for Merger by NewCo Takeover
The merger of Daimler-Benz and Chrysler in 1998 was the first cross-border merger of equals involving a listed German stock corporation. While this merger is not viewed as having been commercially successful, the legal structure created for the merger has become a tried and tested model for international mergers of this type. A current example is the merger of Linde and Praxair. In his recently published dissertation, Konstantin Horn, former Research Assistant at the Max Planck Institute for Comparative and International Private Law, examines the question of whether the shareholders' meeting of the German merger partner has a role to play in such a course of action.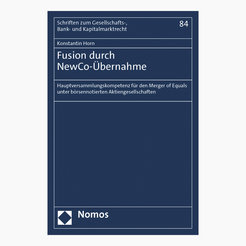 In the transaction structure developed for the DaimlerChrysler merger, the merger partners are brought together under the umbrella of a newly established holding company and the previous shareholders of the merger partners become shareholders of the holding company. The newly established holding company collects the shares of the German merger by offering its own newly issued shares in exchange for the shares of the German merger partner by way of a takeover offer. For the shares of the foreign merger partner, an appropriate mechanism from its own legal system is used. A common term for this legal procedure does not yet exist. In his work, Horn labels this procedure "merger by NewCo takeover".
This merger model, which is now considered best practice, has raised the question of whether it triggers an implicit shareholders' meeting competence under the so-called Holzmüller/Gelatine case law of the German Federal Court of Justice (BGH). After discussing various powers that are expressly conferred on the shareholders' meeting, Horn puts this question at the centre of his work. He applies the principles developed by the BGH to the transaction model and comes to the conclusion that there is no implicit shareholders' meeting authority because the merger is based on a free decision of the shareholders that is attributable to them and not to the management board.

Konstantin Horn, Fusion durch NewCo-Übernahme. Hauptversammlungskompetenz für den Merger of Equals unter börsennotierten Aktiengesellschaften, Nomos, Baden-Baden 2020, Dissertation Ludwig-Maximilians-Universität München 2020, 270 pp. (in German).