We congratulate Klaus J. Hopt on his 80th birthday
Prof. Dr. Dr. Dr. h.c. mult. Klaus J. Hopt, MCJ (NYU), Director Emeritus at the Institute, celebrates his 80th birthday on 24 August 2020. The internationally renowned scholar was Director at the Institute from 1995 to 2008. He was a professor in Tübingen, Florence, Bern, Munich and Hamburg and also served as visiting professor at universities in the USA, Japan and Europe. Further, he has long been involved in numerous non-university settings, including his role as an advisor to legislators in Berlin and Brussels. His commitment to the next generation of scholars has proven especially fruitful. Many of the students he supervised are now themselves accomplished researchers and instructors.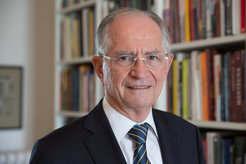 In addition to his outstanding professional and personal strengths, Klaus J. Hopt is characterized by his incredible openness and curiosity. His studies in the fields of law, politics and economics in Munich, Tübingen, Bilbao, Paris and New York were followed by doctorates in law and philosophy as well as by his professorial qualification (Habilitation) in civil law, commercial law, German and European business law, comparative law, legal sociology and legal informatics.
His first appointment led him in 1974 to a position as full professor at the Eberhard Karls University of Tübingen. Before his appointment as Director at the Max Planck Institute for Comparative and International Private Law in 1995, he was also professor at the European University Institute in Florence and at the University of Bern and, from 1987, at the Ludwig Maximilian University of Munich.
His pioneering work on investor protection in banking law has made him one of the most respected legal scholars in Germany and one of the most internationally influential German jurists. His name is inextricably linked with the term corporate governance, and he stands as one of the first to introduce the topic in German discourse.
Looking back, Klaus J. Hopt once described his decision to go to Hamburg as "the best professional decision of my academic career". His conclusion is roundly confirmed by his vast body of work. With his focus on economic and commercial law, he has had a lasting impact on the Institute's research perspective. His commitment to interdisciplinarity was matched only by his aim to establish the Institute as a permanent and principal contributor in international academic circles.
Through his considerable personal contributions, Klaus J. Hopt has also played a key role in supporting academia, serving, for example, as Chairman of the Scientific Council of the Max Planck Society and as Vice-president of the German Research Foundation. His work has received the highest level of recognition, as evidenced by numerous awards, five honorary doctorates and the Cross of Merit 1st Class of the Federal Republic of Germany. We wish Klaus J. Hopt all the best and continuing productivity.