Friedrich Wenzel Bulst appointed honorary professor at the University of Bielefeld
Friedrich Wenzel Bulst, former research associate at the Max Planck Institute for Comparative and International Private Law, has been appointed honorary professor at Law Faculty of the University of Bielefeld as of 6 May 2020. Dr. Bulst has been giving courses on economic law at the university since 2014, with a focus on digitisation.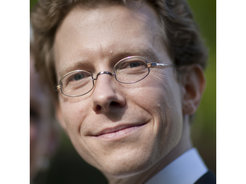 Dr. Friedrich Wenzel Bulst was a research associate in the working group of Institute Director Prof. Dr. Jürgen Basedow (em.) from 2000 to 2005, interrupted by hiatus abroad.
During his time at the Institute, he authored his doctoral dissertation "Schadensabwälzung im deutschen, US-amerikanischen und europäischen Kartellrecht" [The Passing-on of Damages in German, US and European Antitrust Law]. In this study he analysed the three legal systems from comparative and economic perspectives, focusing in particular on the passing on of cartel-generated damages to the next level of a demand chain – a central issue in compensatory claims brought by private parties before civil courts.
Dr. Bulst was awarded his doctoral degree from the University of Hamburg in 2005. Since 2007 he has been an official of the European Commission in Brussels where he currently works in the Directorate General for Competition following positions in the Commission's Legal Service and in the cabinet of Competition Commissioner Margrethe Vestager.