Coronavirus: Protective measures
The Institute management has adopted further measures to prevent transmission of the coronavirus to any of its staff members or guests as well as to stem the spread of the coronavirus in general: Home office is now the standard practice for all employees and the library is not accepting any new guests.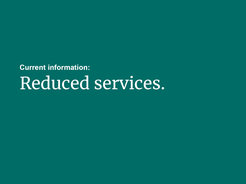 As of Wednesday, 18 March 2020, all Institute staff members are working by means of home office. This means that only employees who are essential for performing organizational maintenance in connection with the Institute's operation will be present on Institute premises. In addition, visitors are currently not allowed to enter the Institute and all public events and internal Institute events are for the time being suspended until 30 June 2020.
As of Monday, March 16, 2020, the library is no longer accepting any new guests in the reading rooms. This measure also includes day visitors. Reading room guests are allowed to enter the Institute solely for literature research purposes and will otherwise have to work from home. Until further notice the library will not be accessible on Saturdays.
We appreciate your understanding that these rules may be subject to further change at any time.