Christoph Schoppe, LL.M. (Chicago)
Research Associate under Prof. Dr. Dr. h.c. mult. Reinhard Zimmermann

Main Fields of Research
Comparative Law (Law of Obligations and Law of Succession, esp. English Law) and Private International Law
Vita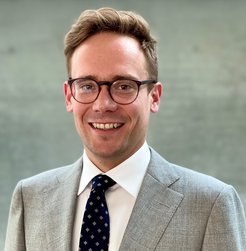 Christoph Schoppe joined the institute in 2016. He is a research associate in the working group of Professor Dr. Dr. h.c. mult. Reinhard Zimmermann. In Michaelmas Term 2020 he was the Max Planck Gildesgame Fellow at the Institute of European and Comparative Law, University of Oxford. He holds a scholarship from the Studienstiftung, the German national academic foundation. He teaches at Bucerius Law School, Hamburg, where he also received his undergraduate studies; Christoph holds a LL.M. degree from the University of Chicago Law School.
He is interested in the law of succession and the law of obligations from a historical and comparative perspective, including issues of private international law in these areas. His PhD project examines the relevance of liftime gifts in the law of succession.
Previously, Christoph Schoppe served as a law clerk (Referendar) in the department of private international law at the German Federal Ministry of Justice and Consumer Protection and at the Supreme Court of the United Kingdom as a Visiting Judicial Assistant to Lord Mance.