Dominik Krell
Senior Research Fellow
Research Group "Changes in God's Law - An Inner-Islamic Comparison of Family and Succession Law"
Main Fields of Research
Islamic Law (emphasis on Saudi Arabia), Comparative Law, and Legal Anthropology
Vita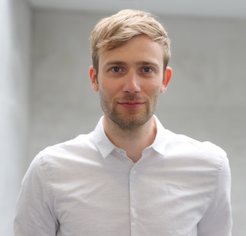 Before studying law and legal theory at Freie Universität Berlin and later at Humboldt Universität of Berlin, Dominik Krell undertook intensive Arabic study at the University of Damascus. He completed his German legal education in March 2016 with the First State Examination (erste juristische Prüfung). In addition to his training in law, he holds a bachelor's degree in History and Culture of the Middle East from Freie Universität Berlin and an MSc in Social Anthropology from Oxford University. His doctoral thesis, entitled "Islamic Law in Saudi Arabia: Concepts, Practices and Developments" (Universität Hamburg 2021), explores the ways Islamic law is understood and applied by Saudi courts.
Dominik has been a visiting fellow at the King Faisal Center for Research and Islamic Studies in Riyadh and a guest researcher at the University of Bergen.
He joined the Institute in 2016.