Inaugural celebration for Institute Director Ralf Michaels
At an inaugural celebration on 5 November 2019, Ralf Michaels was formally installed as Director of the Max Planck Institute for Comparative and International Private Law. As the successor to emeritus Director Jürgen Basedow, who retired in 2017, he has joined the Institute's three-person directorate alongside Holger Fleischer and Reinhard Zimmermann. Katharina Fegebank, Hamburg Deputy Mayor and Senator for Science, Research and Equal Rights, gave a welcoming address highlighting the importance of scholarly work for the future of Hamburg as well as the Institute's role in the city's academic excellence.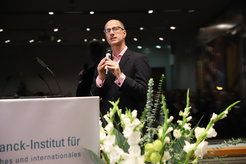 Reinhard Zimmermann introduced Ralf Michaels as an intellectually versatile legal scholar. The new director then delivered his inaugural lecture, entitled "The Marginal Law". The lecture addressed topics including Michaels' research approach of developing private international law further as an instrument for dealing responsibly with foreign legal orders – including non-state law – as well as using it to regulate global phenomena such as online digital interconnectivity and climate change. It also offered an overview of interdisciplinary research projects that Michaels has initiated on decolonial comparative law and on the analysis of private international law based on findings from the field of gender research.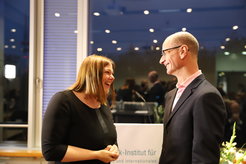 Ralf Michaels has been serving as a full-time Director at the Institute since 1 July 2019, after having assumed this role on a part-time basis on 1 January 2019. To join the Institute, Michaels came to Hamburg from Duke University School of Law, where he had been a professor since 2002. As of the 2019 winter semester, he will also teach at the Faculty of Law at the University of Hamburg.
Numerous scholars connected to Ralf Michaels and the Institute attended the event. Along with Institute emeriti Hein Kötz, Klaus Hopt and Jürgen Basedow, the guests included the former President of the Max Planck Society, Reimar Lüst, as well as the former Mayor of Hamburg, Klaus von Dohnanyi, who worked at the Institute from 1951 to 1952, when it was located in Tübingen.