Information Duties under Japanese and German Private Law
The recently published Special Issue Number 11 of the Journal of Japanese Law takes aim at information and disclosure duties in Germany and Japan. Edited by Harald Baum, Marc Dernauer and Moritz Bälz, the volume offers a comprehensive comparative analysis of the role played by information duties in both jurisdictions.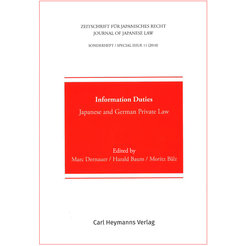 In various areas of private law, information duties constitute something of a Golden Rule. The duties derive from a legal obligation to provide or make available context-specific information. In Germany as well as Japan, information and disclosure duties have significantly increased in the last 30 years, now serving as a basis of regulation in civil law, commercial law, company law, insurance law and capital market law, among other fields.
In a special issue of J.Japan.L. titled "Information Duties – Japanese and German Private Law", various types of information duties are analysed and classified by leading private law and business law scholars from Japan and Germany. The submissions explore the similarities and differences from both theoretical and practical perspectives. The comparative analysis looks to prompt legal experts in both countries to review and rethink the scope and necessity of the existing disclosure regimes.
The special issue stems from the symposium "Information Duties under Japanese and German Private Law", which was held in 2016 in Tokyo on the occasion of the 20th anniversary of the Journal of Japanese Law. The findings from a second anniversary symposium from 2016 were published in Special Issue 10 titled "Self-regulation in Private Law in Japan and Germany".
The Journal of Japanese Law is presently the world's only western language publication offering a regular and timely documentation and analysis of the myriad lines of development in Japanese law. Its goal is to make all areas of the Japanese legal system accessible in a comprehensive and methodologically structured manner. Harald Baum, project leader of the Japan Unit at the Max Planck Institute for Comparative and International Private Law, founded the Journal in 1996.
, , (

eds.

)
, Information Duties – Japanese and German Private Law (Zeitschrift für Japanisches Recht, Sonderheft 11), Carl Heymanns Verlag, Köln 2018, VIII + 284 pp.